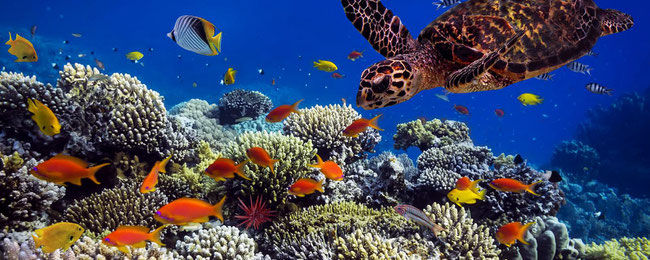 There are so many places you have too see once in your lifetime but some of them are quite unknown yet and I'm guessing American Samoa is one of it. In my defense, I've first heard about it about a year ago. I knew Samoa but I never knew that there was an American Samoa and when I googled it, I fell in love. Unfortunately, it's very hard to get there from Germany and very, very expensive. But I wanted to introduce American Samoa to you anyway, because you know the saying: never say never. Even Queen Elizabeth herself enjoys American Samoa for a quiet stay once in a while and that lady has some life and travel experience.
The facts
American Samoa is part of the Samoan Islands in Polynesia and belongs to the US external territories. Capital city of the main island Tutuila is Pago Pago. The scenery of the islands is filled with jagged peaks, covered in lush rainforest, from the volcanic development of American Samoa. Pago Pago is a fisher town, nestled between two of the most stunning natural harbors of the globe. Outside of Pago Pago there is nothing more but small and traditional villages, which are painting the picture of being somewhere out of this world. Manu'a island, a smaller island near Tutuila is said to be the birthplace of Polynesia.
American Samoa has also a bad reputation for loving McDonald's and American Football just a little too much but don't let that scare you away. The uninhabited beauty is outstanding and the islands are said to be even more beautiful than Tahiti and Hawaii.
Currency around American Samoa is the US-Dollar and native languages are Samoan and American English of course.
How to get to American Samoa
Pago Pago International Airport is your best bet on getting there but only three airlines are operating out of Pago Pago and there are only four cities, which are approaching and can get approached from this airport which are in Hawaii and Samoa. So you have to book a flight to Hawaii or Samoa first and a second flight from there to Tutuila. From Apia in Samoa to Pago Pago you pay approx. $164 / 153€ for a return flight in July – as I said, unfortunately it's not cheap to get there.
What to do on American Samoa
First of all, soak in the outstanding beauty of untouched nature. Second, enjoy the seaside. Go snorkeling and enjoy the diversity of the underwater reef world.
Also, relax at the white sand beaches of the islands and go hiking in the National Park of American Samoa, which covers 16 percent of the three main islands, which are, next to Tutuila, Ta'u and Ofu.
Secluded shores, rainforest hikes and routes up 491-meter-high Mt. Alva are an option and also very well maintained.
If you want to visit the historic Saua site, which is said to be the place where Polynesian sky god Tagaloa created the first human, you will either need a good 4WD or you can hike the two-kilometer-walk. This volcanic and sacred place has a magical feeling in the air, you shouldn't miss out on.
Take a boat to Aunu'u. There are no cars on this small island and it's very calm and quiet. Perfect place to unwind.
What to eat on American Samoa
As I already mentioned, the locals got quite a love for fast food and McDonald's but as you probably guessed, there are other, tastier options. There is a lot of great fish and the cuisine is influenced by Japanese, Chinese, Korean and Mexican immigrants. A great dessert is Palusami – coconut cream roasted inside young taro leaves.
Where to stay on American Samoa
There are several AirBnB accommodations on Tutuila available for $77 / 72€ to $129 / 120€ per night. If you're looking for a hotel instead of an AirBnB, check out >>Flynder<<. There are currently three hotels, for approx. $120 / 111€ per night, available on American Samoa.
As you can see, American Samoa is both untouched nature, a Polynesian paradise and will probably one of the many dream travel destinations around the globe but also very expensive. Nevertheless, it'll stay part of my Bucket List and if you'll manage to get there one day, please notify me so I can envy you ;)
Until then, happy traveling.