After my travel tips for for 2017, I'm hurling myself as it were into a self-attempt today. How cheap is it really to travel to some of those faraway and in some cases even unknown paradise-islands? How much do you have to pay for a flight to bright white sand beaches, lush junglescapes, traversed by waterfalls and the crystal clear ocean? Spoiler alert – it is possible. I was able to enjoy one of those island-paradises myself for a bargain price and now I'm challenging myself to find the best rates combined with the best destinations and I bet, every single one of us has dreamed of them at least once.
So, ready, set, go and if you still haven't found your chosen destination for 2017, after my last post you'll hit pay dirt today.
Oceania
Palau
Where exactly is Oceania located? You're going to find the fascinating island world north and east of Australia and right there, approximately 931mi / 1500km far off the Philippines, lies the insular state Palau. Merely 22.000 residents inhabit elven of the 356(!) islands and the capital city Melekeok is located on Babeldaob – yep, those are reals names and not just baby gibble gabble ;)
Palau is real paradise for divers with its exotic and diverse underwater world but non-divers will get their money's worth. Dreamy beaches, bright blue water and a lush rainforest and all of it without the tourist-crowds.
Rainy season starts in June and ends in August, driest months are February till March, so I'd recommend to visit Palau somewhere between those periods so you're able to see the colorful and thriving flora without too much rain.
What else has Palau to offer?
The Ngardmau waterfall on Koror, Palau's former capital city. Koror is connected with Babeldaob via a bridge and is reachable by car. The waterfall is definitely worth a visit but you should bring your sturdy shoes.
Visit the so called Milky Way (also located on Koror) with a boat. The Milky Way is bay with milky-blue water, sustaining its color by the white chalk sand.
We're staying on Koror, visiting the Jellyfish-Lake. Once linked with the ocean, the salt water lake is now filled with thousands of jellyfish. You can hike to the lake.
And last but not least: A helicopter flight above the Chelbacheb-islands, also known as Rock Islands. The scenic flight is definitely the $80 bucks worth since the untouched waterscape between the islands is simply breathtaking.
How much does flying to Palau cost? The international airport Koror is the the only one around the insular state. The cheapest way to get to Palau is from >>Frankfurt<< in Germany during May/June. You'll pay only 581€ (£495). Cheap flights for example from London, Brussels or Amsterdam are available with low budget airlines just as Transavia, Easy Jet, Ryanair or Eurowings. From >>Los Angeles<< you'll pay $783 (735€) during October.
Indian Ocean
Réunion
Mauritius's neighbor lies 1.300mi / 2100 km off the African coast of Mozambique and has with its volcanos, amazing hikes, waterfalls and divine beaches a lot to offer.
What to experience?
Climb the active volcano Piton de la Fournaise. Even with it being one of the most active volcanos around the globe, you shouldn't miss out on that once since the eruptions are well calculable. A lunar landscape will stretch for miles. Your way up and down will take about 45 minutes.
The best weather to relax at the beach is at the west coast of the island. In fact, the beaches of Réunion are not as good as the ones on Mauritius but the sunsets are stunning. Grande Anse offers a soft white sand beach, surrounded by palm trees but the currents are very strong around here. Etang-Salé-las-Bains is a black sand beach and at L'HErmitage, you'll find dreamy and crystal clear water.
Visit the Cascade Grand Galet. A pool of waterfalls near Saint-Joseph.
How much does it cost to get to Réunion?
I have to admit, Réunion definitely isn't as cheap as Palau. The point of departure with the lowest fare around Europe is Frankfurt in Germany – to my own surprise. In June, you have to spend 658€(£560), find the offer right >>here<<.
South Pacific
Hawaii
One of THE most beautiful places, I was ever able to visit. Last November, I stayed on O'ahu and Maui and I fell in love, especially with O'ahu. (Find all of my Hawaii travel tips >>here<<)
People are relaxed, friendly and welcome you warmly. The nature is simply amazing. Mountains, the glassy ocean, golden yellow beaches, palm trees, a surfer's paradise and sunsets that will take your breath away. Either if you're rent a car, a bike or take the local bus, you will definitely not get bored in Hawaii.
What is there to discover?
Winter is high season for surfing in Hawaii and the pros are racing for the title as world champion during the Vans Triple Crown of Surfing – one of the most important surf contests during the yearlong world tour. If you're on O'ahu during November/December, you shouldn't miss out on that.
Kaena Point is a deserted national park at the most western tip of O'ahu and mix of mountain scenery and ocean, as far as the eye can reach. It's also a great place to watch the Hawaiian Monk Seals.
Search for the waterfall of the Waihee Falls hike. You will have to work your way up the Koolau Mountains but you'll get rewarded.
How much does it cost to fly to Hawaii?
If you're from Europe, cheapest point of departure is Amsterdam. Believe it or not, you'll only have to pay 523€ (£445), choosing this October. Find this real bargain right >>here<<.
Caribbean
Curaçao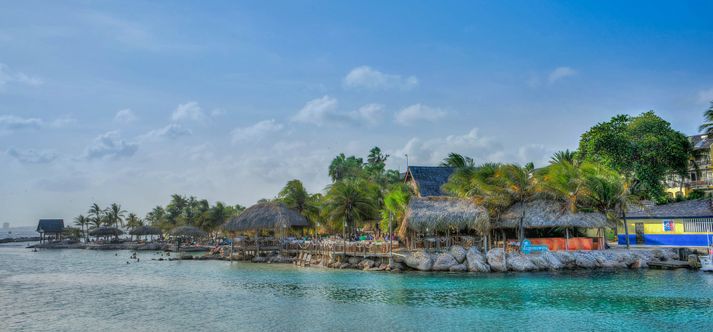 My last island is located south of the little Antilles, off the South American coast.
What has Curaçao to offer?
Find those typical Caribbean-colors around Otrabanda, district of the capital city Willemstad and visit the floating Queen-Emma-Bridge, which connects Otrabanda with Punda – a construction which can only be found on Curaçao. The floating market is also something to visit.
Cas Abou is one of the most beautiful beaches around the island with its white sand, the turquoise and glassy water and its paradisaic possibilities for divers and snorkeler.
Take a boat ride to Little Curaçao. The island is considered to be one of the most closely guarded secrets of the Caribbean and a true dream-island.
Take a boat ride to Little Curaçao. The island is considered to be one of the most closely guarded secrets of the Caribbean and a true dream-island. Little Curaçao is uninhabited and offers the longest beach of Curaçao with fine white sand. The bright blue water is absolutely appealing.
Best place to hike is the national park Christoffel Park. It contains the highest point of the island and a great variety of 500 different plant species awaits you.
How much does it cost to fly to Cuaraçao?
Starting from >>Los Angeles<<, flight expenses will start at $573 during May. Absolute winner is >>New York City<< with only $244 during May.
If you're starting from London, Amsterdam or Brussels. Again, Germany will be your cheapest point of departure. Starting in Munich in September/October, you have to pay £341/424€. Find this bargain right >>here<<. From Berlin, during May/June, you'll pay only £380/447€. Find your flight >>here<<.
So, I'd say Curaçao is the real bargain here.
As you can see, it definitely is possible to make your dream vacation happen. So, pack your bags, get out the bikini and the boardshorts and head in direction of sun, white sand beaches, crystal clear waters and postcard-sunset.
Until then, happy traveling.