The weekend waves goodbye and with it the second Motorworld Classics Berlin – an exhibition for those old gems, nourished and cherished by collectors and car fans, located on the Berlin fairground. I was on site, checked out the whole thing and summed it up for you.
Talking about cars, I'm usually a characteristic woman. I don't really care about cars and I also don't really know a thing or two about them. I don't like tiny cars, lacquered in bright pink and I think that overpriced sport cars are boring but classic cars are a thing. A fancy Mustang or a Cadillac with whitewall tires are always nice to look at and the Motorworld Classics wiled exactly with it from 10/07/16 till 10/09/16. I paid ten euros / eleven dollars for my ticket, which was valid through the whole weekend (fifteen euros / seventeen dollars is the usual price). We chose Saturday for our visit and I have to admit that I had a few concerns. The Motorworld Classics is the third event at the exhibition grounds I've visited and the last two events had been completely overcrowded during the weekend, so I couldn't really enjoy them. The masses pushed us through the area and we could hardly stop at the booths and check them out unhurried, but the Motorworld convinced me otherwise.
It was really enjoyable, not too crowded but also not too dead. We could check out everything without a hurry, regardless of wether on the outside or the inside and without anybody stepping on our toes. However, the structure of the whole exhibit is still in need of improvement, in my opinion. Every now and then, I stumbled up on cars that couldn't really be classified as classic cars just like Tesla's electrically powered SUV – model x. Okay, it's undoubtedly nice to look at but absolutely no classic car. As well as there were too many booths selling stuff like souvenirs. Clocks, signs, books, even clothes and I am pretty sure that people, which are visiting a classic car show are not planning on buying a new outfit. Well, that's a matter of opinion.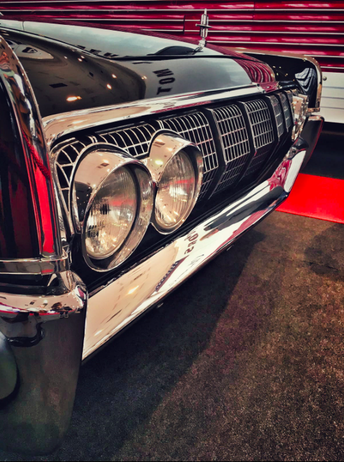 Other than that, there is not much to complain about. I had wished for a few more American brands. Mostly, there was Porsche representing old racing cars, but it was really interesting. Especially the private vendor market on the outside. Just to see the costs of those classic cars. And said cars that were up for sale had been represented by a host and I have to admit, he really knew what he was talking about. Unfortunately, I didn't bring my credit car, so I couldn't go for it but maybe next year (just kidding).
Highlights were Elvis Presley's old car, of course – sadly that one wasn't for sale – and one car that was as good as "new". An automobile that got discovered in a barn with only 26 kilometers / 16 miles on the speedometer. The new owner will probably find a pretty neat Volkswagen Beetle underneath all that dust. 
Bottom line: The Motorworld Classics Berlin is worth a visit. The ticket rates are absolutely fine and you definitely get your money's worth. Maybe a little less Porsche and a bit more Cadillac, Buick or one or two Chevrolets in the future and everything's perfect. So, if you're in Berlin in 2017, pop in the Motorworld Classics and spend one afternoon in the past.
Until then, happy traveling.