It's number two on my 'top places to visit during my lifetime' – list, nearly everybody has heard about it but nearly anyone has been there, celebrities are posting stunning photos on their Instagram-feed while spending their holidays there and it's known for owning the heaviest wave in the world – French Polynesia.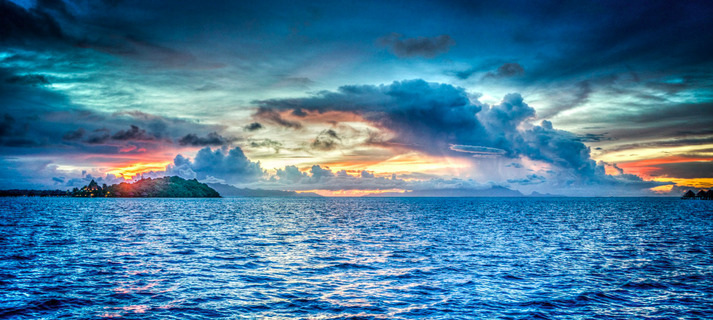 But is it really as untouchable for us normal and usually not unbelievably rich human beings as it seems? Like I said, it's number two on my top three list and since I've already ticked off my number three last year (Cuba) and are going to tick off my number one in about seven weeks (Hawaii), I'll definitely want to visit French Polynesia one day. Regardless of wether I'll be rich or not then.
And so I did some research on cheaper ways of getting there, what to see, what to do and if it's really that super-paradise, everyone imagines. But first some facts:
French Polynesia is located in the South Pacific, has a population of approx. 187.000 citizen, 50% of these are living on the main island Tahiti. The currency is the CFP-Franc and the international airport is located in Papeete. Money exchange works best at the airport. If you don't want to bring CFP-Franc as a souvenir back home, you should exchange it at the airport before departure.
French Polynesia has a tropical climate with an average temperature of 26°C / 79°F, driest month are August and September, which is during winter on the islands. The month with the most rain is January with two weeks of rain on an average. The air is pretty humid during the whole year.
Let's start with Tahiti.
It is a twin island, consisting of Tahiti Nui, which is big Tahiti and Tahiti Iti, which is small Tahiti and less populous. On Tahiti Iti is one place, I'd definitely want to see. It's a small village called Teahupoo and if you're looking for the end of the world, it's probably there. The official road ends there and is marked with a stone saying kilometer zero. If you want to get further, the only option is walking. But that is not the only reason, why I wanna go there.
Teahupoo is known in the surfing community for owning the heaviest wave in the world – Chopes. Waves up to 15 meters / 49 feet break on a shallow reef behind the laguna during winter time. Don't get me wrong, I'd never surf that stuff but it's the most beautiful wave, I've ever seen photographed. The whole ocean shifts, lifting itself up, the wave is unbelievably thick but with a face as glassy as a clean mirror. 
Only the best surf here when it's that big. I just want to watch this phenomenon, staring in awe and asking myself "how crazy do you have to be to get on a surfboard and jump on that shit?".
But Teahupoo is not the only thing to explore on Tahiti. If you want to enjoy a stunning view over the laguna right up to neighbor island Moorea, you should search for the overlook called Taharaa above the Tahiti Pearl Beach hotel in Papava.
f you want to relish the inlands and the natural reserve of the Papenoo valley, you could book a cross country safari on tahiti.com. It's a three and a half hour tour with pick up from your accommodation but with 80 euros / 90 dollars per Person it's not that cheap and you have to be aware, that some of the younger the locals sometimes tend to party down there but the nature is said to be terrific with it's waterfalls, the jungle and the wildlife.
Polynesia is also has a reputation for being the cradle of body art. Tattooist are highly respected around here. Nearly every local below the age of 35 has a tattoo and if you want to get under your skin, Mana'o Studio in Papeete is said to be one of the best tattoo studios on Tahiti. But don't forget a tattoo really is forever and yes, it does hurt. I know what I'm talking about ;)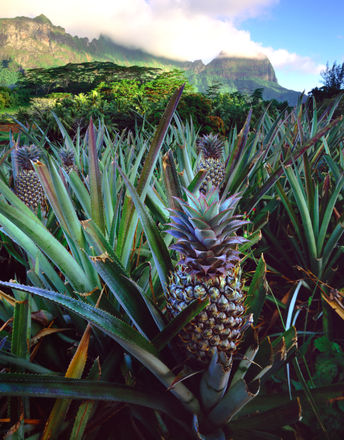 But French Polynesia is not just Tahiti. It's neighbor Moorea is known for it's stunningly beautiful beaches and an inland landscape that is out of this world. Who wouldn't want to explore pineapple fields and relax at a white sand beach laguna afterwards?
And, also, there's Bora-Bora, with a land area of only 38 km² / 24 mi². Bora-Bora is probably one of the most VIP visited atoll in the Southern Pacific but guess what, it's also affordable for us. Which leads us rates and prices.
Starting with flights. Probably one the biggest factor that is keeping most of us from traveling to French Polynesia. The flights are extremely expensive, well, at least if you're starting in Germany. Usually, you pay up to 1.700 euros / 1.900 dollars for a round trip from Munich. So, you may have to be spontaneous in order to catch a cheaper flight. Holidaypirates.com offers flights for 949 euros / 1.067 dollars right now for 2017, departing from Munich.
Once you're there, you probably want explore the island by rental car. It's not that easy to find a provider for rental cars on Tahiti. Well, again, I'm talking about Germany, but kayak.com offers an economy car for 23 euros / 26 dollars a day or a SUV for 59 euros / 66 dollars a day.
And last but not least: accommodation.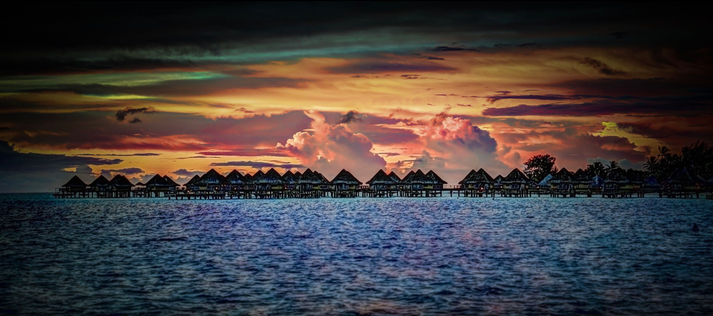 Who hasn't seen those scenic photos of bungalows right in the turquoise pacific ocean with ladders right into the blue waters and dreamy white sand beaches? Well, if you don't want to pay not less than a one monthly salary for a few days in paradise, you probably have to lower you standards – at least a little – but that doesn't mean you have to choose the crappy stuff.
No, Airbnb does the trick once again. In Papeete you can already get a private room with a private bathroom and your own entrance with a truly superb looking view of the turquoise water and the nature for only 51 euros / 57 dollars per night. The Airbnb is called Pamatai's Paradise and the host is even a so-called superhost with loads of good reviews. If you want to stay in Teahupoo for a night, it won't get that cheap. Best recommendation I could find is called Vanira Lodge. Bungalows, lovingly built in harmony with the nature are offered there. The cheapest ones would be Maara or the Kava tree house with 151 euros / 170 dollars per night.
On Moorea, you can get a bungalow right in the middle of nature in Afareaitu for only 55 euros / 62 dollars per night and since it's even a bed & breakfast, your breakfast in the jungle is assured.
Last but not least: our atoll Bora-Bora. And guess what, even there it's possible to find a great bungalow right near the beach in Vaitāpē.
Host Gérad offers you wifi, a kitchen, two beds with space for three people, a washing machine and a beautiful garden for only 71 euros / 80 dollars per night.
So, as you can see, it actually is possible for us non-superrich to travel to French Polynesia and enjoy a superlative paradise. It may won't be as cheap as a extended weekend in Spain but long-distance journeys always need some kind of travel-budget planning and it still is possible.
So, let's start putting some money in the box - I'm all in as well - because French Polynesia is definitely a dreamland to visit.
Until then, happy traveling.