Time for the travel duel, everybody has been waiting for. Great Britain versus Ireland. Island versus Island. Fuller's against Guinness. THAT accent against, well, the other accent. Let's not waist anymore time. 
London against Dublin
First off all, I'm gonna get you started with some facts about both metropolises.
London has thirty-three boroughs, there are more than 8.5 million people living in London and it is the biggest city of the United Kingdom, even one of the largest cities in Europe. Dublin, on the other hand, has twenty-four boroughs, 528.000 people are inhabiting the city and it is the largest city of Ireland. London has the famous river Thames and Dublin the river Liffey.
As some of you may know, I've been living in London from 2009 till 2010 and visited the city quite a few times. London is a part of me and even with the more increasing tourism and costs of living in the past two years, it'll always be my home. If I'd start with all the things you could do in London, this list would never end, so I'm just gonna focus on my favorite places/activities there. If you want a cheap city tour, get a transportation map, buy a oyster card and hop onto the busses cruising around London.
Oyster cards are like credit cards only for London transportation. You top them up with a chosen amount of pounds and use them while taking the tube or the bus. Wanna get somewhere fast? It's the tube. Want to see a lot of the city? The bus it is. You can take a crisscross tour around the city. If you're light on your feet, then start your walking tour at Oxford Circus, walk down to Piccadilly Square, cross Trafalgar Square afterwards. Walk along the horse guards parade, pass by Downing Street (the prime ministers home) until you end up at Westminster Abbey and Big Ben. Check mark on half of the important attractions in London without spending a single pound. If you still light on your feet, take a walk along the river Thames, starting at Big Ben until you reach the famous tower bridge. You'll pass by London eye, the millennium bridge, London bridge and the queens walk. But I'd recommend to take the walk by night. The lights are just beautiful. If you want to enjoy a traditional tea time, then go to Covent garden and enjoy the BB Bakery there. It's a beautifully arranged café with love for the detail. You'll get some cupcakes and tea on old, flowery china and relax in one of the antic armchairs while watching the people pass by. Near Covent garden is also Neal's Yard. A colorful and hidden alley with small shops and healthy cafès. My favorite market is Borough Market near London Bridge, it's one of the oldest food markets in London with stalls offering freshly prepared food from around the world. I know, that most people say British food is awful but they've clearly never been to the right places.
Nightlife in London offers everything the heart desires. If you want to go dancing, I've always enjoyed Camden Town very much. During the day, it's a huge market turning into a club area in the night. Best pub, that isn't bound to the curfew at midnight, is the O'Neills right behind China Town. Live Music and lots of cider. If you need a quiet day after your party night, just enjoy a day in one of the dozens of parks in London. Grab a blanket and a good book, enjoy the sun – yes, London has sun and I've even experienced more than 30° Celsius / 86° Fahrenheit in the summer – or just watch the people. Despite the stories, people in London have always been nice to me. I've always enjoyed the mix of old architecture and modern technology there and no matter which season, the city always has it's charm.
've been to Dublin twice. One time in May and the other time in February and even when I've only been there twice, I've witnessed all four seasons. February has been cold and snowy and May? Well, there was rain – lots of rain – days that turned out to be really sunny and warm in between and sometimes even some autumn-like storms and hail. So, it's true what they tell you about the rainy Irish weather but it's part of the perfect Ireland experience and it's, what makes the country as green and naturally beautiful as it is. Dublin is a bit sleepy, only exception is the artist district called Temple Bar. It's colorful, it's thriving and full of life, music and culture. Probably because it's the part of Dublin that's most famous with the tourists. I really enjoyed Temple Bar. I loved the colorful houses and pubs, it definitely is a sight to see. What else is there you're thinking of first, when somebody talks about Dublin? Yes, Guinness. That famous dark beer with an oily texture and the perfect white head. You can find the Guinness Storehouse in Dublin. It takes you on a tour through the brewing heritage until you end up on the top of the storehouse with a free pint of Guinness.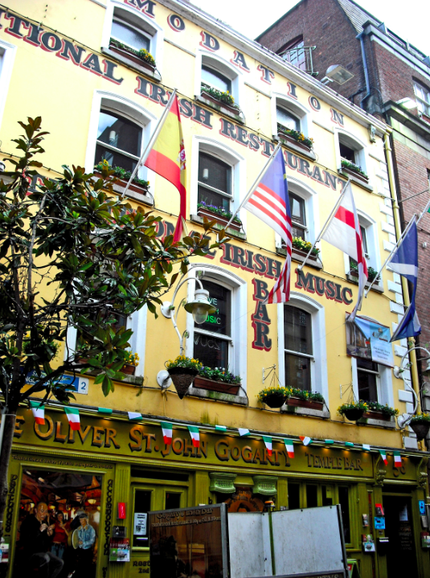 In my opinion it's nothing I wouldn't have to see it again. The setup of the whole thing is nicely done but to me, the visit was a bit boring and at the risk that every Irishman is going to hate me: I just don't like Guinness. I'm not much of a beer drinker in general and the bitter taste of this one just doesn't do it for me. No hate, everyone has his own taste. The most amusing thing I've experienced in Dublin was the National Wax Museum. For Irish conditions, the entrance fee is not too expensive – 12 Euros – and what you'll see in there is going to make you laugh for sure. Some of the wax figures are built quite poorly and nothing compared to Madamé Tussauds (well, Madamè Tussauds is way more expensive in return) but if you don't know what to do or the weather sucks, it's quite an entertainment. 
What else is there to see in Dublin? Of course Trinity College. The university grounds are really nice and kind of impressive as well as the famous Longroom of the library. It is one of the biggest and oldest libraries worldwide.
Dublin - Ireland in general - is also expensive. Really expensive. The first time, I've been to the supermarket, my jaw dropped. I'd advise you to get a place with a kitchen so you can cook for yourself, it's still cheaper than having to go out for dinner or lunch everyday but still, if you want to buy enough food in Ireland, you better save up some money. Altogether, Dublin is a nice city, great for artists but I have to say, it's not the best place I've ever been to. Ireland itself has way more beautiful places to go and see.
So, points to London this time. It may got more expensive and there are way more tourists than in Dublin but there is so much more to see and do and London has Pret a Manger, my favorite natural food store ever (yes, maybe I haven't been completely objective in this travel duel ). You should definitely visit Ireland but if you're traveling there, see the Ring of Kerry, Kilkenny or Cork – way better than Dublin.
Until next time, happy traveling.